As we approach Thanksgiving, it's the perfect time to reflect on the abundance in our lives and express gratitude for the opportunities and experiences that have shaped our careers.  
Gratitude is a powerful tool that can transform our mindset and provide a powerful foundation for success.
I have written several blog posts in the past about gratitude and Thanksgiving; however, this is the first post about gratitude and career.
Ten Tips to Incorporate Gratitude
In this blog post, let's explore the connection between Thanksgiving and career development. 
Here are ten simple tips to incorporate gratitude into your professional journey.
Reflect on Achievements: Take a moment to reflect on your career journey.  Identify the milestones, achievements, and lessons learned.  This reflection instills a sense of pride and gratitude for the growth and progress you have made.
Express Appreciation to Mentors: Thanksgiving is the perfect time to express gratitude to those who have guided and supported you.  Reach out to mentors, colleagues, or anyone else who has supported you in your career.  A simple thank-you can strengthen professional relationships and express your appreciation for their impact on your professional journey.
Show Gratitude to Your Team: Recognize and appreciate the efforts of your colleagues and team members.  A thank-you note or an expression of appreciation during team meetings can cultivate a positive work environment and strengthen the team bond.
Practice Mindfulness: Incorporate mindfulness into your daily routine.  Take a few minutes each morning to focus on the present moment.  Acknowledge the positive aspects of your work and personal life.  This practice can enhance your overall well-being.
Have a Gratitude Journal: Start a gratitude journal dedicated to your professional life.  Regularly, write down three things you are thankful for in your career.  This exercise can cultivate a positive mindset, helping you navigate career challenges with a more optimistic outlook.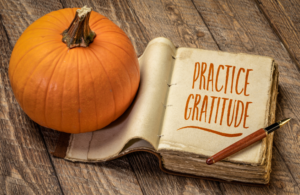 Volunteer or Give Back: Consider volunteering your time and skills in your community or industry.  This selfless act can foster a deep sense of gratitude for the impact you make beyond your daily work.
Celebrate Small Wins: Acknowledge and celebrate your victories, large and small, achieved throughout your career journey.  Whether it's completing a challenging project or overcoming a professional hurdle, recognizing these achievements fosters motivation and gratitude.
Network with Gratitude: Approach networking with an authentic sense of gratitude.  Acknowledge the value others bring to the table and show appreciation for their insights and knowledge. Building relationships based on gratitude can lead to genuine and meaningful connections.
Learn from Setbacks: Look at setbacks as opportunities for growth. Embrace the lessons learned from the challenges and express gratitude for the resilience and skills developed from these challenges.  A positive perspective on setbacks can be a powerful catalyst for future success.
Set Gratitude Goal: Incorporate gratitude into your career development goals. Whether it's recognizing achievements, expressing appreciation, or fostering a positive work environment, setting intentional gratitude goals can enhance your professional journey.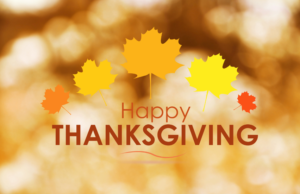 Happy Thanksgiving
As you gather with loved ones this Thanksgiving, carry the spirit of gratitude into your professional life as well. Having a mindset of thankfulness can positively impact your career development. It can open doors to new opportunities and enhance your overall work experience.
By incorporating these ten tips into your routine, you will see how gratitude transforms your career journey.
Here's to a season of gratitude and continued success.  Happy Thanksgiving!