This is a collaboration blog by Erika Del Sordo and Meredith Kimmel, ACC.  This blog can also be found at www.TodaysTalkwithErika.com.
"Never Delay What Can Be Done Today"
The original phrase goes, ""Don't put off until tomorrow what you can do today." Benjamin Franklin coined that one. I Erika-fied it and said the former. However, you say it, heed its advice. Such a short phrase embraces a big thought. It will actually change your mindset.
When it comes to putting things on hold, it's usually the big stuff, right? Like:
Starting up your own business.
Saving for retirement.
Having children.
Getting your health on the right track.
Getting the big things in order means you are disciplined to tackle the small things. Like:
Mowing the lawn.
Cleaning the house.
Fixing something that's needed to be fixed.
Finishing a project.
You get the idea.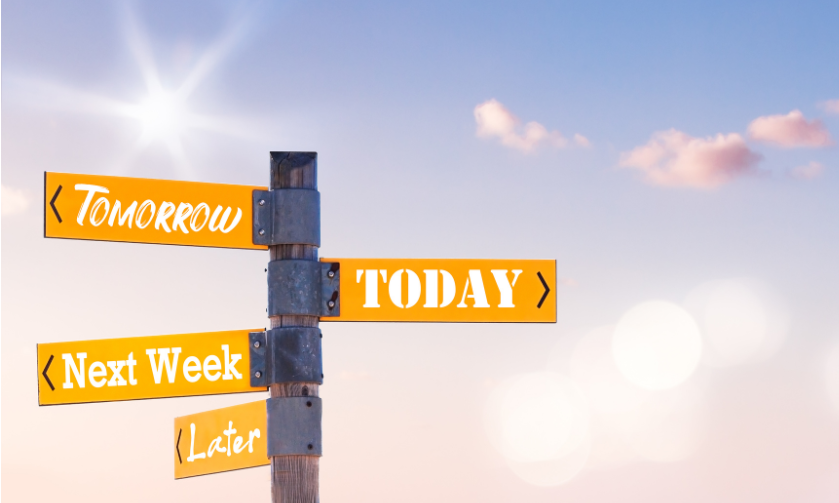 Putting Off the Small Things Leads to Delaying Life's Big Ideas
When you continue to put things off, overwhelm sets in. You get frustrated. The honey-do list grows. And nothing gets done. Procrastination is the fuel for Overwhelm. If you make a list of things to get done within the day, check them off and get them done! Work on priorities first, then tackle the day in that order.

Will there be moments when things are out of order? Yes! So go with the flow. But don't panic when things go awry.

Then comes the big stuff. There's honestly never a more appropriate time than the present. If you've thought about starting your own business, but you're scared because now is not a good time, that's exactly the right time! Why, you ask? Because fear, overwhelm and procrastination all grow when not cared for properly. When you tick things off your to-do lists throughout the day, you're keeping your wins in check.

You have to trust the process. Usually, things work out for most people who have started when it wasn't the right time. So many people didn't have a million dollars in the bank before they had their first kid. Complete thoughts weren't settled on when businesses were created. You STILL haven't started the flower garden out back? Do it today.

There is never a better time than the present. I believe Meredith would concur. What do you say?
Erika, I totally agree with what you said above. There is no time like the present to get things done!
Delaying; Procrastinating; and Overwhelm
I will admit, I've had a life-long struggle with procrastination. In fact, a coach of mine recently said to me, "procrastination makes us tired because we are naturally inclined to finish things, and if we don't finish them, we have to resist, and we use our energy to resist the inclination to get it done."
This statement really shifted my thinking and helped me to decide to track my energy. In a recent blog post, Erika and I discussed energy management and overwhelm. By making my to-do lists and checking items off (even items I didn't want to do), I started feeling accomplished and energized.
There are many reasons why we delay or procrastinate. We may think that we are not worthy of the end result. We may be uneasy with the opportunities that achieving our goals may bring. Leveling up can be very uncomfortable, even if it is what we want.
We may think that achieving our goals is too much hard work. One question that people find motivating is, "if you only had a month left, what would you accomplish?" The answers are usually very profound and have very long lists.
While this may sound extreme, none of us know how much time we have left, so what are we waiting for? Just Do It!
Stop The Delay and Do It Today
This may sound very easy in theory, but in practice it may be more difficult. Erika talked about little stuff and big stuff and how doing the little stuff can get in the way of doing the big stuff. I was working with a client, and we weren't making progress on her big goals. I asked her one day, if she's a firefighter because all she does is put out fires. We started looking at her "small stuff" and we saw that the "small stuff" was eating up her time and not allowing her to focus on the "big stuff." When this became clear, she shifted her thinking and created strategies to tackle both the "little and big stuff." She's well on her way to achieving all of her big goals, and she's even achieved a few of them so far!!
Recognize that you are putting things off and figure out why you are doing that.
Look at what you want to accomplish and decide if you still want to do that. A lot of energy can be tied up in avoiding something that you no longer have a desire to do, and this delays you from doing other things.
The big stuff may seem overwhelming, break it down into bite-sized chucks and do one thing at a time. A house just doesn't appear, it is built brick by brick.
Have trust, confidence, and belief in yourself. Each of us has a special gift and it is our duty to show it to the world.
Trust the process.
Don't wait for tomorrow. Don't wait for never. Get out of your comfort zone and Just Do It!!